Where?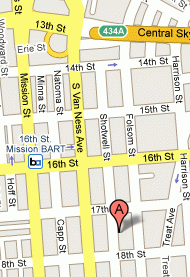 The Rent Party will be held every Saturday at:
351 Shotwell, SF
This is the location of the Rhythm and Motion Dance Center.
Parking
Parking is not too bad in the neighborhood, usually you can find parking within a couple of blocks of the venue. Don't leave any valuables in your car, since this is in the Mission. And be sure to remember to be
quiet in the neighborhood!
Doghouse?
Yes, this is the old location of the venerable
Doghouse
. And while we will pay respects to this great venue of SF past, we also intend to create something new. The ambience of the venue will be completely transformed to create more of the feel of a House party. Come see Rhythm and Motion like you've never seen it before!